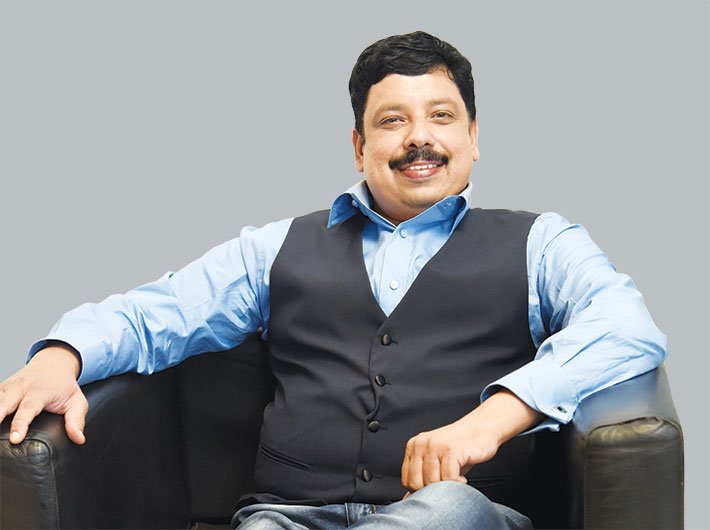 Anand Neelakantan is an Indian author, columnist, screenwriter, television personality and motivational speaker. He has authored five fiction books in English and one in Malayalam. His debut work Asura, The Tale of the Vanquished is based on the Indian epics of Ramayana. His next book series was Ajaya-Roll of the Dice, Ajaya – Rise of Kali based, the two books on the epic Mahabharata told from Kaurava perspective. Anand books voice the suppressed party or the defeated party. His fifth book Vanara, the legend of Baali, Sugreeva and Tara also follow the same pattern of expressing the defeated side.
Anand Neelakantan also had signed with the producers of Baahubali, the blockbuster film, for a three-book series based on their movie and the series will be a prequel to the film. The first book of this trilogy, Rise of Sivagami, was released on March 2017. Netflix has announced a web series on the book. His books have been translated to different languages such as Tamil, Hindi, Malayalam, Telugu, Kannada, Marathi, Bengali, Gujarati, Assamese and Indonesian Bahasa.
Anand Asura is one of the 100 books to be read in a lifetime as per Amazon. The book has sold more than half a million copies across the years. Three of Anand Neelakantan's books have been shortlisted for crossword award during the respective years and he is also listed as one among the 100 top celebrities in India in 2015, 2017 by Forbes India. All his books have got critical accreditation from various people across the world.
Anand Neelakantan's sixth book Vanara, the legend of Baali, Sugreeva and Tara is published by Penguin Random House and is a best seller. DAR films and KR movies have announced that they have won the film adoption rights and will be producing a multilingual film on Vanara.
Anand's Malayalam work Pennramayanam has been published by Mathrubhumi books. Anand also writes a column for New Indian Express on current affairs and his fortnightly column is called "Acute Angle"
Anand Neelakantan seventh Book Chaturanga, the second book in the Baahubali trilogy series, was released on 6 August 2020. continues to be the number one bestseller across the charts. His 8th book, The Very, Extremely, Most Naughty Asura Tales for Kids was released on 28th September 2020. Within a week after release of the book, it is the best seller among all categories.
Anand is also a prolific writer in Malayalam and regularly publishes stories in the prestigious Malayalam magazine. He is also a cartoonist. He lives in Mumbai with his wife Aparna, daughter Ananya, son Abhinav and pet dog, Jackie the Blackie.
Some of the key highlights of Anand Neelakantan