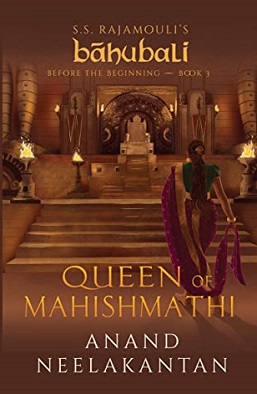 Sivagami's missteps have only deepened her determination to fulfil her father's wish and stop the despicable activities at Gauriparvat. And so she battles on. Unknown to her, however, Maharaja Somadeva's challengers have begun to close in on the king, and Sivagami finds herself suddenly at a disadvantage. With a player like Somadeva, though, the biggest mistake you can make is to not immediately checkmate and destroy. The game of chaturanga is not quite over.
As Sivagami takes on the kingdom's enemies, guided by Somadeva, she finds in her own manoeuvres an echo of the man she has always detested. In her journey to becoming the queen of Mahishmathi, Sivagami must choose between love and ambition, principles and deviousness, selflessness and envy. What does she hold on to, what does she let go? A thrilling, breathless read, Queen of Mahishmathi is the third and final book in the Bāhubali: Before the Beginning series.


The story of "Baahubali- before the begining" comes to an end.. This was my most favourite book in the trilogy.. With a lot of Action, Wars.. Planning and Plotting.. Devious schemes.. The Best Part of the Book is not one Character is wasted... each and every character has it's role to play and is well written.. The Fantasy world is equally amazing as depicted in the Movies.. I totally Enjoyed Reading this story of Shivagami Devi..and Will now Rewatch the Movies.. Do Pick this Series and you will definately love reading it..
After reading the last of part of this trilogy i felt that this series is one of the best fictional work i have ever read, the story reminded me of the great stories of the best fictional Telugu books - Chandamama and Balamithra. Anand Neelakantan sir gave best out put. In every aspect Anand Neelakantan sir showed his brilliance.
The book stands up to the high expectations I had from it. The author has linked all the three books beautifully together with the story that follows in the form of the movies. As expected, the author does justice to the story where innumerable characters are used apart from the main characters the books share with the movies. I would highly recommend everyone to give this trilogy a read as it will be worth the money and time spent.