The Rise of Sivagami: of Baahubali - Before the Beginning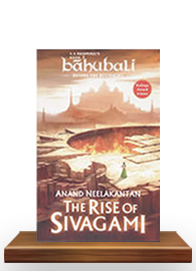 Blessed by the sacred Gauriparvat, Mahishmathi is an empire of abundance. The powerful kingdom is flourishing under its king, who enjoys the support and loyalty of his subjects, down to his lowly slaves. But is everything really as it appears, or is the empire hiding its own dirty secret?
Orphaned at a young age and wrenched away from her foster family, Sivagami is waiting for the day she can avenge the death of her beloved father, cruelly branded a traitor. Her enemy? None other than the king of Mahishmathi. With unflinching belief in her father's innocence, the fiery young orphan is driven to clear his name and destroy the empire of Mahishmathi against all odds. How far can she go in her audacious journey?
From the pen of masterful storyteller and bestselling author Anand Neelakantan, comes The Rise of Sivagami, the first book in the series Bahubali: Before the Beginning. A tale of intrigue and power, revenge and betrayal, the revelations in The Rise of Sivagami will grip the reader and not let go.
An awesome book especially if you are a bahubali fan, these book is just as fantastic as the movie and it's not the same story as well, loved the prequel thing. Amazing stuff.
Fantastic story told in an amazing way. Throughout the reading we will feel all the emotions of Sivagami. One of the best books I have read. This is a must have for a book lover. This can be counted as Anand sir's best work .
I have been a fan of Anand since the day I read Asura. Here I was, holding a book that challenged everything I had learnt and seen on TV since I was little. His writing style, the narration and the way he weaved philosophy into the story made the book unquestionably unputdownable. The same is case with the first installment in the Baahubali series. I was reading this book every opportunity I had. Anand had ensured that the reader is engaged right from the first page of this book, all the way to the Acknowledgments. The characters came to life in my kindle and in my imagination, and I could feel the aspiration and tension of the characters in the book. Eagerly looking forward to the next 2 installments of this book