Vanara: The Legend of Baali, Sugreeva and Tara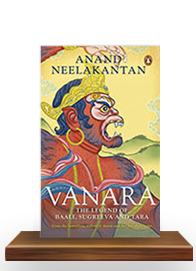 Baali and Sugreeva of the Vana Nara tribe were orphan brothers who were born in abject poverty and grew up as slaves like most of their fellow tribesmen.
They were often mocked as the vanaras, the monkey men. Sandwiched between the never-ending war between the Deva tribes in the north and the Asura tribes in the south, the Vana Naras seemed to have lost all hope. But Baali was determined not to die a slave. Aided by his beloved brother, Sugreeva, Baali built a country for his people.
The capital city, Kishkindha, became a beacon of hope for emancipated slaves from across the world. It was a city of the people, by the people, for the people, where there was no discrimination based on caste, creed, language or the colour of skin.
For a brief period in history, it seemed as if mankind had found its ideal hero in Baali. But then fate intervened through the beautiful Tara, the daughter of a tribal physician. Loved by Baali and lusted after by Sugreeva, Tara became the cause of a fraternal war that would change history for ever.
Anand is one of those people who has adopted the neutral storytelling style, leaving the perception to the readers. He creates the characters and lets the audience discover them. While he excels in displaying inflated heroism always, it is interesting to witness how he has put Hanuman and Baali in his book, Vanara.
S. S. Rajamouli
film-maker
Like always, a very engrossing perspective on our mythology. Anand Neelakantan's writing makes you question everything you were taught. He researches his characters and goes to a great extent to bring detail into the narrative. For me Anand now, is what Amar Chitra Katha was as a child.
The grey shades are as real as they can get. You cannot put down Vanara. Anand Neelakantan makes you feel it's all happening now and here.
Rakyesh Omprakash Mehra
Film-maker
Vanara is a politically relevant tale and should be boldly applauded. With a captivating narrative, Anand Neelakantan brings back his suave style of storytelling. A must read!